Providence Student Assignment
TO BE ELIGIBLE FOR THE MIDDLE AND HIGH SCHOOL CHOICES PROCESS ALL APPLICATIONS MUST BE COMPLETED, SIGNED BY THE PARENT/GUARDIAN OF RECORD AND RETURNED TO THE SCHOOL NO LATER THAN FEBRUARY 9, 2018.
What is transition grades?
Transitions grades are a new level in a student's academic journey identified as Kindergarten, 6th, and 9th grades in the Providence Public School District.
How do get to choose a preferred school?
Providence Public Schools provides students and parents at the transition grades with an opportunity to participate in the school random selection process. The District provides each student at these levels the opportunity to select four preferred schools to be submitted as choices in the randomized assignment process.
How do I submit my choices?
Kindergarten - The selection process will happen at the time of the initial on-time kindergaten registration.
Grades 6 and 9: The selection process usually happens while the students are actively enrolled in a Providence School during the academic year prior to moving into the transition grade. Students are provided with forms and a submission deadline, they must meet, in order to participate in the randomized selection process. Student's living in Providence but attending private or charter schools may participate in the choice process by requesting a form at the Student Registration and Placement Center.
Welcome to the Student Registration and Placement Center
Attention Parents:
Due to the impending storm and school cancelation, the registration center will be running on holiday/vacation hours on Tuesday, March 13 ( 8:30 am to 3:30 pm) extended hours have been cancelled.
New: Middle School and High School Lotteries
for School Year 18-19 are Complete!
To learn your child's grade 6 or 9 school assignment
click here to access the Student Assignment Finder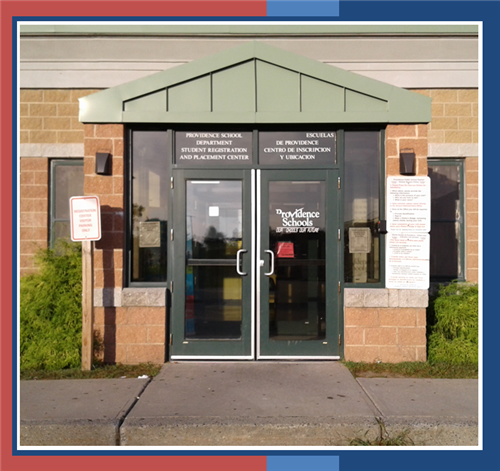 Now Available: Online Preregistration for New Students
NEW FAMILY TO THE DISTRICT: Click here to pre-enroll a new student whose family is also new to Providence Public Schools. This will help you set up a Skyward student account.
Visit Skyward to preregister a new student who has a sibling enrolled in Providence Schools. Once you have logged in, click on "New Student Online Enrollment" in the menu to the left of the screen.
YOU CAN NOW PRE-REGISTER ONLINE!
For pre-enrollment instructional video click here: English version
Spanish version
Pre-registrations are for new incoming students or students returning to the district and are subject to final approval and completion of all the requirements.
All registrations are to be completed in person at the Student Registration Center. No appointment is necessary. You may come to the center at your earliest convenience during normal hours of operation for your interview process. Kindergarten students are asked come in during our Kindergarten Registration Drive (January 16, 2018 through March 17, 2018). Upper grades registrations for incoming 18/19 students, grades 1-12, will be received at the center beginning April 2, 2018.
Students who speak another language at home will require an English Language Learner Screening at all grades level. Grades 6-8 will require STAR testing.
If the student requires testing, you will be provided with an appointment at the time of the registration interview. All testing is done on site at the center.
Please be sure that you download and complete the registration forms prior to arriving for your interview.
We look forward to serving you in the near future.
IMPORTANT ANNOUNCEMENTS
March, 2018 CLOSURES: The center will be closed on Friday, March 30, 2018 in Observance of Good Friday.
PUERTO RICO EVACUEES: Please visit the registration center at 325 Ocean St. to fill out the necessary paperwork, get registered and proceed with the necessary testing. Registration and enrollment will not be held up due to a lack of immunizations records or academic records. However, depending on their travel history, a student may be asked to get a tuberculosis test. Please address any questions to inforeg@ppsd.org.